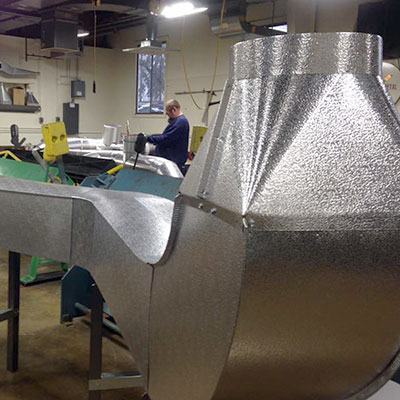 Sheet Metal Workers Local Union #12 is a member of the Sheet Metal-Air-Rail-Transportation International Association. It represents approximately 1,200 workers living within one of 23 counties in Pennsylvania. Sheet metal workers fabricate and install a multitude of products from a variety of metals. Almost all of their work is custom designed and fabricated. Sheet metal workers fabricate anything from HVAC systems to architectural roof and cladding systems, industrial material handling systems, sign work, ornamental work, custom kitchen and food handling equipment, and anything else made of metal. Sheet metal workers fabricate all of these items from galvanized metal, iron, steel, tern plate, copper and a variety of stainless steels. They are skilled in all metal craftwork including cutting, rolling, bending, mitering, welding, soldering, drafting, reading plans and specifications and design.

CLASSROOM HOURS: 1,000 plus electives in training (4-5 YRS)
HOURS ON-THE-JOB TRAINING: Up to 9000 (4-5 YRS)

AVAILABLE CERTIFICATIONS: AWS Welding (Light-Gage and Structural Steel Processes), Utilizing Destructive and Non-destructive Test Procedures, OSHA 10 and 30, First Aid, CPR AED, CFC Refrigerant & Universal Card, TAB (Testing, Adjusting, Balancing), Fire Life Safety (Fire Damper Inspection ), Detailing, Indoor Air Quality, HVAC Energy Audit and Pit Welding

COURSES: HVAC Systems, Sheet Metal Work, All Welding Disciplines, Architectural Sheet Metal Work, Operating Hand Tools, Equipment Power & Computerized Machinery, Industrial Sheet Metal Work, TAB Service/Maintenance of HVAC, Safety & Upgrade Classes, HVAC Design, AutoCAD and Construction Documents.
SHEET METAL WORKERS LOCAL UNION # 12 JATC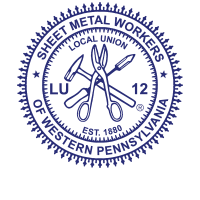 Keith Schettler
1200 Gulf Lab Road
Pittsburgh, PA 15238
Phone: (412) 828-1386
Fax: (412) 828-2124
www.smlocal12.org