BRICKLAYERS LOCAL # 9 ACCEPTING APPRENTICESHIP APPLICATIONS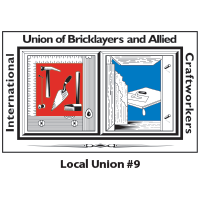 Bricklayers and Allied Crafts Local # 9 is accepting applications for no-cost, paid apprenticeships with the following trades: Bricklayer, Cement Mason, Pointer-Caulker-Cleaner, Stone Mason, Tile Layer, Terrazzo Workers, Tile and Marble Finishers, and Marble Masons. New apprentices are brought in as needed.
The application is available for download at www.local9pa.com at Career Link in your area, or the Local # 9 PA union hall located at 100 Kingston Drive, Pittsburgh, PA 15235
The base minimum requirements are as follows:
Applicant must be 18 years of age and have a high school diploma or G.E.D. certificate, or 17 years of age with parent or guardian signature.
Applicant must have a valid Pennsylvania drivers' license.
Applicant must take a written exam set up by the J.A.T.C., and attend an in-person interview.
Applicant must pay a non-refundable processing fee of $25.00 upon submitting the application. Payments may be made by cash, check or money order payable to "BAC Local 9 PA JATF".
Applicant may be required to submit to a test for substance abuse and are subject to a criminal background check.
Applicant must be willing to attend an out-of-state school for 8 weeks.
Applicants must reside within the jurisdiction of B.A.C. Local 9 PA and the appropriate area/chapter for which they are applying.
Applications are accepted throughout the year; For more information and to confirm residency requirement please visit www.local9pa.com
Contacts: Kurt Keller, Apprentice & Training Coordinator, 412-400-1599 This email address is being protected from spambots. You need JavaScript enabled to view it.