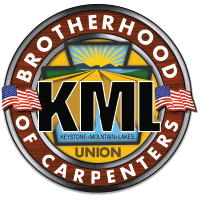 The Carpenters Training Center is accepting applications for the Commercial Carpenters' Training Program every Wednesday (8:00 am - 3:30 pm) year round with classes starting in February, June, and October
Floor Coverer, Heavy Highway, Mill Cabinet, Millwright, and Pile Driver Training Program applications are being accepted every Wednesday (8:00 am - 3:30 pm) year round with classes starting in June.
APPLICANTS MUST MEET THE FOLLOWING REQUIREMENTS:
Be at least 17 years old, 18 to start work
Be a high school graduate or hold a GED certificate or equivalent

Those graduating by June are eligible

Have a valid driver's license and suitable transportation
Capable of meeting the physical, mental, and cognitive demands of the Training
Indicate interest, desire, and willingness to learn
Be available for full time employment if accepted into the program
Must reside in Pennsylvania excluding the following counties: Philadelphia, Delaware, Chester, Montgomery, Bucks, Berks, Lancaster, Carbon, Lehigh, and Northampton
Also may reside in the following counties in Maryland and West Virginia: Allegany, Garrett & Washington (MD) and Berkley, Brooke, Hampshire, Hancock, Jefferson, Marshall, Mineral, Morgan & Ohio (WV)

Pile Driver

Training applicants from the following counties are also eligible: Monongalia, Preston,

&

Wetzel (WV) and Columbiana

&

Jefferson (OH)
MUST HAVE A VALID DRIVER'S LICENSE AT TIME OF APPLICATION
THINGS TO CONSIDER:
Upon completion of the application, the applicant will then be scheduled to return to the Training Center to take an aptitude test.
If accepted, the applicant will be required to pay a portion of the cost of a human performance evaluation performed by an independent agency selected by the Committee (includes testing for substance abuse).
Because this is a training opportunity, The Joint Apprenticeship Committee and its' Board of Trustees DO NOT and CANNOT guarantee full time employment. According to the Collective Bargaining Agreements, when employment is available it will be provided by the Keystone + Mountain + Lakes Regional Council of Carpenters.
The recruitment, selection, and training of apprentices during their apprenticeship shall be without discrimination because of age, color, race, religion, national origin, sex, qualified disabilities or any other characteristic required by law. The sponsor takes affirmative measures to provide equal opportunity in apprenticeship and operates the Apprenticeship Program according to Title 29 of the Code of Federal Regulation, Part 30 and the Equal Employment Opportunity Regulations of the State of Pennsylvania.
TO LEARN MORE ABOUT US PLEASE VISIT
To access our sample test click on Training > Download Sample Test
Women and Veterans are encouraged to apply!